$7.99
ISBN: 9781101988879
Availability: In Stock, Click Title for Location
Published: Ace - February 27th, 2018
This novel by Mark Lawrence has it all, including but not limited to a strong female protagonist, assassin nuns, epic battles and magic! A great and engaging read!
---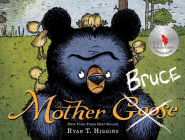 $17.99
ISBN: 9781484730881
Availability: In Stock, Click Title for Location
Published: Disney-Hyperion - November 24th, 2015
This is a fantastic tale of a grumpy bear who unexpectedly becomes the caretaker of a flock of goslings when all he wanted to do was eat lunch!
---

Email or call for price.
ISBN: 9780399563850
Availability: Hard to Find
Published: Viking - August 2nd, 2016
This is a strange, funny novel unlike anything I've ever read. I thoroughly enjoyed this contemporary fantasy / sci-fi adventure.
---