Saturday, May 28, 2022 - 11:00am
Please join us as Jim Kates reads from and discusses his latest poetry collection Places of Permanent Shade
"In Places of Permanent Shade, J. Kates tackles the big themes along with some smaller ones, but whether he is writing about chopping wood or the end of the world, he brings to his poetry a restless intelligence, subtle humour and a keen sense of observation, both of the inner and the outer life. His tone and use of imagery are remarkable and varied, the voice both colloquial and elegant. And often, lurking just around the corner, is a sharp wit that will jump out and bite you on the arse before you know it."—Peter Robinson, author of Not Dark Yet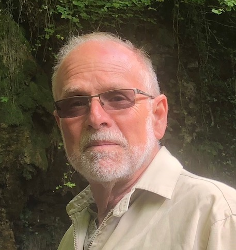 Jim Kates, an award-winning literary translator and the co-director of Zephyr Press, has been granted three National Endowment for the Arts Fellowships and an Individual Artist Fellowship from the New Hampshire State Council on the Arts. He has had published three chapbooks of his own poems (two of which are folded into Places of Permanent Shade) and one previous collection of poems, The Briar Patch (Hobblebush Books). He is also the translator of a dozen books of Russian and French poetry, has edited two anthologies of translations, and collaborated with Stephen A. Sadow on a half dozen books of Latin American and Peninsular Spanish poetry in translation.
His newest translation is SIXTY YEARS SELECTED POEMS: 1957-2017 the works of the Russian poet MIKHAIL YERYOMIN.
For more than half a century, Mikhail Yeryomin has been writing poetry unique in Russian literature. Each of more than two hundred fifty poems (so far) is a discrete eight-line stanza. When he publishes them, each one takes up a separate page. Some are accompanied by notes. This fully bilingual English and Russian volume presents the range and depth of Yeryomin's poetic works.
Books:

$16.00

ISBN: 9780984592180
Availability: In Stock, Click Title for Location
This book is not returnable
Published: Hobblebush Books - September 15th, 2012
---

$19.95

ISBN: 9781737160311
Availability: In Stock, Click Title for Location
Published: Black Widow Press - March 31st, 2022
---