Before Kevin Gardner begins his lecture on building stone walls in New England, he lugs in two plastic buckets of small rocks, plunks them by the long table that serves as his lectern and spreads a green towel on top of the table.
Gardner—author of The Granite Kiss, one of the select, definitive books about building stone walls in New England—has spoken at historical societies, town libraries, Canterbury Shaker Village, Old Sturbridge Village and Boston's Arnold Arboretum, to name a few. He's part of the New Hampshire Humanities' award-winning Humanities to Go program, presenting lectures to community groups throughout the state, and also an actor, director and teacher of theater.
Having captured everyone's attention, Gardner very judiciously places one rock on the green towel and then another to lay the first course of the miniature wall he'll eventually build.
Just in time for Father's Day - join us for Kevin's demo on dry-stack stone wall building. The old New England way. And afterwards, pick up an autographed copy for your home handy person. Can't make it? We'd be happy to set one aside for you and get it personalized. Stop in or give us a call.
Event date:
Saturday, June 10, 2017 - 3:00pm
Event address:
Lorden Plaza ~ upper building (to the right)
614 Nashua Street

$19.95
ISBN: 9781581574302
Availability: In Stock, Click Title for Location
Published: Countryman Press - May 9th, 2017
---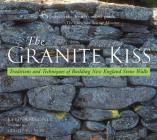 $19.95
ISBN: 9780881505467
Availability: In Stock, Click Title for Location
Published: Countryman Press - September 17th, 2008
---