Please join us in welcoming back Maria Gianferrari to our store where she will eb discussing and singing her newest picture book for kids Hello Goodby Dog!
For Zara's dog, Moose, nothing is more important than being with his favorite girl. So when Zara has to go to school, WHOOSH, Moose escapes and rushes to her side.
Hello, Moose!
Unfortunately, dogs aren t allowed at school and Moose has to go back home.
Goodbye, Moose.
But Moose can't be held back for long. Through a series of escalating escapes, this loyal dog always finds her way back to Zara, and with a little bit of training and one great idea, the two friends find a way to be together all day long.
Keene native Maria Gianferrari's work has appeared in various national children's magazines, and she was the winner of PEN New England's 2009 Susan P. Bloom Discovery Award. You can learn more about her at www.mariagianferrari.com.
Maria is also using this a fund/supplyraiser for the Monadnock Humane Society. She will be donating $1 of every book sold and is asking guests to either bring or donate supplies to MHS - check their website for the items most in need - or just leave your financial donation at the event!
Maria will also hhave a therapy dog at the event for all to meet!
Event date:
Sunday, August 20, 2017 - 11:00am
Event address:
12 Emerald St.
the corner of Emerald and Main

$16.99
ISBN: 9781626721777
Availability: In Stock, Click Title for Location
Published: Roaring Brook Press - July 25th, 2017
---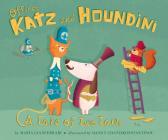 $17.99
ISBN: 9781481422659
Availability: In Stock, Click Title for Location
Published: Aladdin Paperbacks - October 18th, 2016
---