A Photographer's View of Cultural Diversity in New Hampshire
Becky Field will be presenting and signing her book Different Roots, Common Dreams: New Hampshire's Cultural Diversity.
Since 2012, Becky Field has been photographing the lives of new Americans in New Hampshire. Her photographs show the diversity that immigrants and refugees bring to our communities, as well as the common dream of all people for a safe and productive life. In her presentation, Becky will project the faces and activities of people who have come from other countries, and who now reside in the Granite State. Her experiences as a photographer have assisted in her effort to learn about the families, their cultures, and their religions.
Becky has shared her work throughout the region in numerous talks and exhibits on immigration and refugee issues. Her body of work has stimulated public discussions on cultural, ethnic, and religious diversity. Her book, Different Roots, Common Dreams: New Hampshire's Cultural Diversity, documented stories about New Hampshire immigrants. In 2017, Becky partnered with the New Hampshire Charitable Foundation to start the Different Roots, Common Dreams Scholarship Fund to help refugees and other immigrants pursue a four-year undergraduate degree.
Becky holds a Certificate in Photography from the New Hampshire Institute of Art, and has studied photography throughout the Northeast. She has also served as a research ecologist and university professor, and holds masters and doctoral degrees in ecology.
For more information, visit www.DifferentRootsNH.com, or contact Becky at fieldworkphotos@gmail.com.
Event date:
Saturday, February 29, 2020 - 1:00pm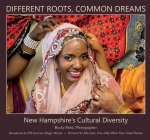 $35.00
ISBN: 9781937721244
Availability: In Stock, Click Title for Location
Published: Peter E. Randall Publisher - September 15th, 2019
---