Author Peter J. Manosh describes the main character of Autumn, his book of poetry, as Mother Nature herself, depicted during the changing of the guards, or the changing of the seasons. His poetry takes into perspective that when "walking along the foot paths in the woods the sound of rustling leaves can be heard as the wind blows through the trees that surround you."
Peter J. Manosh
resides in Southwestern New Hampshire, but calls Vermont home. Although Autumn was written in 2007, it took 10 years to find an illustrator who could bring his poetry to life. The author was born in Morocco, North Africa, and has lived in England and Germany. He has also resided in California, Oregon, Colorado, Michigan, and Vermont.
Illustrator
Marylise Reilly-Fajal
was born in America, was raised in Vietnam as a child, and then lived in Paris, where she studied art at the Sorbonne, the Academy of Beaux-Art, the Academy of Montparnasse, and the Louvre Museum.
Event date:
Saturday, January 12, 2019 - 2:00pm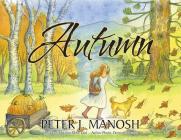 $17.50
ISBN: 9781946539144
Availability: In Stock, Click Title for Location
Published: Strategic Book Publishing & Rights Agency, LL - October 18th, 2018
---