Dasher: How a Brave Little Doe Changed Christmas Forever (Hardcover)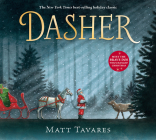 Description
---
From the celebrated creator of Red and Lulu comes the story of a brave little doe who meets Santa and changes Christmas forever.

Dasher is an adventurous young reindeer with a wish in her heart. She spends her days with her family under the hot sun in a traveling circus, but she longs for a different life — one where there is snow beneath her hooves and the North Star above her head. One day, when the opportunity arises, Dasher seizes her destiny and takes off in pursuit of the life she wants to live. It's not long before she meets a nice man in a red suit with a horse-drawn sleigh — a man named Santa. And soon, with the help of a powerful Christmas wish, nothing will be the same.
About the Author
---
Matt Tavares is the author-illustrator of Crossing Niagara, Henry Aaron's Dream, There Goes Ted Williams, Becoming Babe Ruth, and Growing Up Pedro, as well as Zachary's Ball, Oliver's Game, and Mudball. He is the illustrator of 'Twas the Night Before Christmas, Over the River and Through the Wood, Lady Liberty by Doreen Rappaport, The Gingerbread Pirates by Kristin Kladstrup, and Jubilee! by Alicia Potter. Most recently he wrote and illustrated the modern Christmas tale Red and Lulu. Matt Tavares lives in Ogunquit, Maine.
Praise For…
---
Gorgeous illustrations make this one sure to fly off shelves "like the down of a thistle."
—Kirkus Reviews

Richly colored illustrations in watercolor, gouache, pencil, and pastel delineate the history of how Dasher volunteered to pull Santa's sleigh and help him bring joy to children on Christmas. Readers will enjoy this lush new holiday tale that focuses on Santa's original reindeer.
—Booklist Online

Happily for all, a bit of magic assists gift delivery, and Santa's gratitude leads to granted wishes and a reindeer reunion. Tavares's classically painted figures are lit by moonlight and falling snow in this cozy antidote to holiday hullabaloo.
—Publishers Weekly

Dasher's personality is clearly conveyed through her fervent wish for a better life, and her love of her family...and of carrots. Tavares's painterly watercolor, gouache, pencil, and pastel illustrations reflect the pleasantly nostalgic tone used throughout this Santa's-reindeer origin story.
—The Horn Book

Matt Tavares's Dasher is magical. Kids are going to love this story for decades to come.
—Colby Sharp, co-founder of Nerdy Book Club
Coming Events - Lively Times At All Three Stores
Sign up for our emails
Enter your email address   here   to sign up for our occasional emails and you will automatically receive a 20% off coupon you can use on your next visit to one of our stores.