The Seagull and the Sea Captain (Hardcover)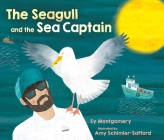 $17.99

In Stock, Click Title for Location
Description
---
From New York Times bestselling author and National Book Award Nominee Sy Montgomery comes the sweet, brightly illustrated true story of a seagull and a sea captain who became friends over the course of four summers.

In a quiet harbor in New England, a sea captain named Ellis is visited by a seagull that lands on the back of his family's passenger schooner one afternoon. Ellis feeds the seagull, and by the end of the week, it was eating crackers right out of his hand! Their friendship lasted the summer, and four years later, the wild seagull Polly still visits. This nonfiction story about an unlikely friendship is sure to charm young readers.
About the Author
---
Sy Montgomery is a naturalist, documentary scriptwriter, and author of thirty-one acclaimed books of nonfiction for adults and children, including The Hummingbirds' Gift, the National Book Award finalist The Soul of an Octopus, and the memoir The Good Good Pig, which was a New York Times bestseller. The recipient of numerous honors, including lifetime achievement awards from the Humane Society and the New England Booksellers Association, she lives in New Hampshire with her husband, writer Howard Mansfield, and a border collie.

Amy Schimler-Safford started her career in textile and surface design. She now illustrates children's books and lives on a lake in Georgia with her family and lots of country critters, all of whom provide Amy with a constant source of amusement and inspiration.
Praise For…
---
One day in Gloucester, Massachusetts, a sea captain guided his schooner out of the harbor. His passengers wanted to see the sights: mansions, buoys, lighthouses, and whales. Seagulls flew into the air, also taking in the sights: people eating, fishermen hauling in their nets, and the beautiful schooner. Suddenly, a gull with five toes (one was missing) landed behind the captain, who tossed him an oyster cracker. Afterwards, the gull returned daily to visit the captain and share a snack. That autumn, the bird flew south, but in spring, he returned and joined the captain on his daily voyages. Weather permitting, he still does. Montgomery, author of the Sibert Award–winning Kakapo Rescue (2010) offers a well-structured narrative underscoring the link between people and animals through the similarity of their activities and the repeated line, "Everything's more fun with a friend." Illustrated using watercolors, oil paints, oil pastels, collage, and digital elements, the handsome double-page spreads capture the beauty of the sea setting. This pleasing picture book tells the story of a bird who befriended a man.

— Carolyn Phelan
— Booklist

Science writer Montgomery begins this real-life story of an unlikely friendship with views of two voyages: a schooner carrying passengers out from Gloucester Harbor, and a group of gulls "riding the wind on their strong, outspread wings." Vintage-inflected spreads by Schimler-Safford glow with the blues of the sea and the whites of the sails and the gulls' wings. In a connecting moment, a herring gull with a missing toe spies the schooner and lands next to its captain for a closer look: both think the other is "a sharp dresser." The captain, who presents as white, feeds the bird an oyster cracker and calls him "Polly Five Toes." As readers spot both figures on the bay throughout the spreads, the two also learn to recognize one another, forming a lasting bond that leads to a suspenseful sequence in this true story of human-animal companionship. Back matter offers more information about gulls. Ages 4–8. (Mar.)
— Publishers Weekly
Coming Events - Lively Times At All Three Stores
10/10/2022 - 9:00am

to

10/16/2022 - 6:00pm
Sign up for our emails
Enter your email address   here   to sign up for our occasional emails and you will automatically receive a 20% off coupon you can use on your next visit to one of our stores.