Almost Everybody Farts (Hardcover)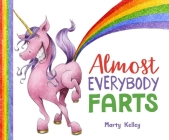 Description
---
Grandmas fart. Teachers fart. Terrifying creatures fart. But . . . is there someone who DOESN'T fart?

With sly humor, this fun picture book looks at a subject that's sure to make children laugh: farting. With silent farts, farts like horns, and rainbow farts from unicorns, Almost Everybody Farts comically captures the gassy scene. And only one person insists she's fart-free: MOM But is she? Kids will insist on reading this rhyming story again and again.

"A playful, punchy paean to the pervasive poot." --Kirkus Reviews (Starred review)

About the Author
---
Writer and illustrator Marty Kelley lives in NH. His picture book, Twelve Terrible Things (Tricycle Press), received a starred review in School Library Journal and a glowing write-up in The New York Times by none other than Lemony Snickett. Author Christopher Moore (Lamb: The Gospel According to Biff) called it, "An inspired work of dark humor." Marty is a popular speaker who visits between over 150 schools a year throughout New England and beyond. Marty has been a second-grade teacher, a drummer, and a baker, but by far his favorite job has been writing and illustrating children's books. To learn more about Marty, visit martykelley.com.
Coming Events - Lively Times At All Three Stores
Sign up for our emails
Enter your email address   here   to sign up for our occasional emails and you will automatically receive a 20% off coupon you can use on your next visit to one of our stores.