Washington at Valley Forge (Paperback)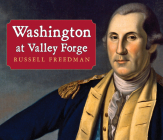 $14.99

In Stock, Click Title for Location
Description
---
Starvation, hypothermia, and the loss of all hope-- at Valley Forge, George Washington and his troops faced seemingly insurmountable obstacles. In overcoming them, they became legends.

In this comprehensive volume, Newbery Award-winning author Russell Freedman applies his renowned storytelling skills to examine a pivotal moment in the Revolutionary War-- one in which the nation's future leader would be greatly tested. 

Camped twenty miles outside of Philadelphia at Valley Forge in the winter of 1777-78, Washington's ragtag army was at its most vulnerable; but when the harsh winter ended, the soldiers had survived, and marched away from Valley Forge more determined than ever. The British were defeated in 1783, and Washington, for the rest of his life, said that the credit for the American victory belonged to the soldiers who had braved the horrific conditions at Valley Forge.

A perfect complement to any lesson on the Revolutionary War, Washington at Valley Forge makes this historical moment feel immediate and all too real. A must-have for history buffs, students, and anyone interested in America's past. Impeccably sourced with gorgeous reproductions of engravings, paintings, and more, this NCTE Orbis Pictus Honor Book is now appearing in paperback for the first time. "Another stunning work from the nonfiction virtuoso," says School Library Journal.
About the Author
---
Russell Freedman (1929-2018) transformed non-fiction for children through his insightful narrative, comprehensive research, careful selection of photographs, and deep understanding of his subject matter. He was well known for his riveting biographies and masterful accounts of the history of the United States. One of the most honored writers for children, his many awards include the Newbery Medal, three Newbery Honor Medals, the Laura Ingalls Wilder Award, the May Hill Arbuthnot Honor Lecture Award and a National Humanities Medal. Major works include Freedom Walkers; Lincoln: A Photobiography; Because They Marched; The Wright Brothers: How They Invented The Airplane; Vietnam: A History of the War. 
Coming Events - Lively Times At All Three Stores
05/21/2022 -

11:00am

to

1:00pm

05/21/2022 -

3:00pm

to

5:00pm

05/26/2022 -

6:00pm

to

7:30pm

06/04/2022 -

2:00pm

to

4:00pm
Sign up for our emails
Enter your email address   here   to sign up for our occasional emails and you will automatically receive a 20% off coupon you can use on your next visit to one of our stores.