I Can Be Safe: A First Look at Safety (A First Look at…Series) (Paperback)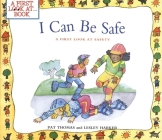 $8.99

In Stock, Click Title for Location
Description
---
Are there kids in your life who could benefit from a friendly little book that acknowledges kids' fears and makes them aware of things they need in order to feel safe in different situations? This is the perfect book! They learn, for instance, to look both ways when crossing a road, to wear special clothing for sports, to know their parents' names, phone number, and emergency numbers, and many other details.
Parents, teachers, and gift givers will find:
language that is simple, direct, and easier for younger children to understand
information how to be safe and self sufficient
a helpful book written by a psychotherapist and counselor
a whole series of books for children to explore emotional issues
The A First Look At series promotes positive interaction among children, parents, and teachers, and encourage kids to ask questions and confront social and emotional questions that sometimes present problems. Books feature appealing full-color illustrations on every page plus a page of advice to parents and teachers.
Coming Events - Lively Times At All Three Stores
05/21/2022 -

11:00am

to

1:00pm

05/21/2022 -

3:00pm

to

5:00pm

05/26/2022 -

6:00pm

to

7:30pm

06/04/2022 -

2:00pm

to

4:00pm
Sign up for our emails
Enter your email address   here   to sign up for our occasional emails and you will automatically receive a 20% off coupon you can use on your next visit to one of our stores.