The Tarantula Scientist (Scientists in the Field Series) (Paperback)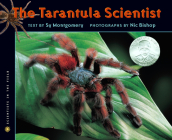 $9.99
In Stock, Click Title for Location
Description
---
A 2005 Sibert Honor Book

Yellow blood, silk of steel, skeletons on the outside! These amazing attributes don't belong to comic book characters or alien life forms, but to Earth's biggest and hairiest spiders: tarantulas. Here you are invited to follow Sam Marshall, spider scientist extraordinaire (he's never been bitten), as he explores the dense rainforest of French Guiana, knocking on the doors of tarantula burrows, trying to get a closer look at these incredible creatures. You'll also visit the largest comparative spider laboratory in America—where close to five hundred live tarantulas sit in towers of stacked shoeboxes and plastic containers, waiting for their turn to dazzle and astound the scientists who study them.
About the Author
---
Nic Bishop, who holds a doctorate in the biological sciences, is the photographer of many acclaimed books for children. He lives in Auckland, New Zealand.Visit his website at:
nicbishop.com
In addition to researching films, articles, and over twenty books, National Book Award finalist Sy Montgomery has been honored with a Sibert Medal, two Science Book and Film Prizes from the National Association for the Advancement of Science, three honorary degrees, and many other awards. She lives in Hancock, New Hampshire, with her husband, Howard Mansfield, and their border collie, Thurber.
Website: symontgomery.com
Twitter: @SyTheAuthor.
Praise For…
---
"Montgomery has a gift for scene-setting... She deftly weaves clear explanations and comparisons into the main text... Bishop's phenomenal photos show spiders mating, shedding their skin, even leaping through the air. It's enough to make Miss Muffet fall in love." Kirkus Reviews, Starred

"...this is a vivid look at an enthusiastic scientist energetically and happily at work, both in the field and in the lab, questioning, examining, testing, and making connections. A treat, even for arachnophobes." School Library Journal, Starred

"Bishop's photographs rise magnificently to the challenge of capturing earth-toned spiders amid earth-toned jungle surroundings, bringing the critters up-close and personal and offering a few of his trademark astonishing stop-action shots... This would liven up a science curriculum no end, and it might also convince young readers to go beyond the elemental pleasures of 'Ew, gross' to the more sophisticated appreciation of 'Wow, cool.'" The Bulletin of the Center for Children's Books, Starred

This beautifully photographed book explains just about everything an elementary school student might want to know about this often misunderstood and maligned creature.
The Five Owls, Starred
Coming Events - Lively Times At All Three Stores
10/02/2020 -

5:00pm

to

6:00pm

10/10/2020 -

11:00am

to

12:00pm
Sign up for our emails
Enter your email address   here   to sign up for our occasional emails and you will automatically receive a 20% off coupon you can use on your next visit to one of our stores.