The Quest for the Tree Kangaroo: An Expedition to the Cloud Forest of New Guinea (Scientists in the Field Series) (Paperback)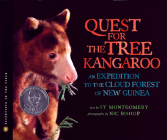 Description
---
It looks like a bear, but isn't one. It climbs trees as easily as a monkey— but isn't a monkey, either. It has a belly pocket like a kangaroo, but what's a kangaroo doing up a tree? Meet the amazing Matschie's tree kangaroo, who makes its home in the ancient trees of Papua New Guinea's cloud forest. And meet the amazing scientists who track these elusive animals.
This title has been selected as a Common Core Text Exemplar (Grades 4-5, Informational Texts)
About the Author
---
Nic Bishop, who holds a doctorate in the biological sciences, is the photographer of many acclaimed books for children. He lives in Auckland, New Zealand.Visit his website at:
nicbishop.com
In addition to researching films, articles, and over twenty books, National Book Award finalist Sy Montgomery has been honored with a Sibert Medal, two Science Book and Film Prizes from the National Association for the Advancement of Science, three honorary degrees, and many other awards. She lives in Hancock, New Hampshire, with her husband, Howard Mansfield, and their border collie, Thurber.
Website: symontgomery.com
Twitter: @SyTheAuthor.
Coming Events - Lively Times At All Three Stores
Sign up for our emails
Enter your email address   here   to sign up for our occasional emails and you will automatically receive a 20% off coupon you can use on your next visit to one of our stores.