Condor Comeback (Scientists in the Field) (Hardcover)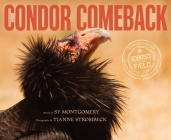 $18.99

In Stock, Click Title for Location
Description
---
Winner of the 2021 Green Earth Book Award
Sibert Medalist, National Book Award Honoree, and New York Times bestselling author Sy Montgomery turns her formidable talents to the story of California condors and the scientists who have fought against their extinction in this installment in the award-winning Scientists in the Field series.
In April of 1987 the last wild California condor was captured and taken to live in captivity like the other twenty-six remaining birds of its kind. Many thought that the days were over of of this remarkable, distinguished bird that had roamed the skies of North and Central American for thousands of years.
Sy Montgomery employs her skill for on-the-ground reporting, shrewd observation, and stunning narrative prose to detail the efforts of scientists, volunteers, and everyday citizens to get California condors back in the wild. In particular, Montgomery profiles employees at the Santa Barbara Zoo who have worked tirelessly to raise abandoned chicks, nurse sick birds back to health, and conduct research that can support legislation to ban what is probably the largest threat to the existence of the wild condor: lead bullets. In turns affectionate and frustrated, hopeful and heartbreaking, Montgomery's powerful prose does justice to these ancient, sociable, and elegant creatures.
Complete with world-class, full-color photography and helpful sidebars that provide details such as the history of the bird's fight back from extinction, the dangers of lead poisoning, and the relationship of condors to the Chumash nation, Condor Comeback is an inspiring story of groundbreaking science, perseverance, and cooperation.
About the Author
---
In addition to researching films, articles, and over twenty books, National Book Award finalist Sy Montgomery has been honored with a Sibert Medal, two Science Book and Film Prizes from the National Association for the Advancement of Science, three honorary degrees, and many other awards. She lives in Hancock, New Hampshire, with her husband, Howard Mansfield, and their border collie, Thurber.
Website: symontgomery.com
Twitter: @SyTheAuthor.     
Praise For…
---
"Hopeful news in the natural world." — Kirkus Reviews (starred review)
"A captivating introduction to the California condor." — Booklist (starred review)
"Alongside Strombeck's crisp photographs, Montgomery details the realities of their work—from thrilling moments such as spotting a baby chick to long observation sessions where not much happens—and has a knack for evocative descriptions...Though the condor's future remains tenuous, Montgomery's compelling page-turner inspires optimism." — Publishers Weekly (starred review)
"[A] story of unusual triumph for a species so close to extinction....with vivid images that range from the comic to the majestic.... youngsters will be galvanized by the possibilities of this kind of scientific work and keen to find ways to join in."  — The Bulletin of the Center for Children's Books, Starred Review
"[N]ot only entertaining but will also likely impress the whole science class." — Shelf Awareness, STARRED Review
"Like many of Montgomery's nonfiction titles in the series, this recent entry does an excellent job of incorporating facts and narrative information about an animal not typically covered in stand-alone titles. The engaging call-to-action message is paired with gorgeous photographs that immerse readers in the condors' world." — School Library Journal
Coming Events - Lively Times At All Three Stores
10/10/2022 - 9:00am

to

10/16/2022 - 6:00pm

12/03/2022 -

1:00pm

to

4:00pm
Sign up for our emails
Enter your email address   here   to sign up for our occasional emails and you will automatically receive a 20% off coupon you can use on your next visit to one of our stores.