The Great White Shark Scientist (Scientists in the Field) (Paperback)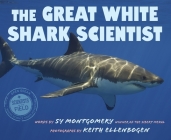 $9.99

In Stock, Click Title for Location
Description
---
* "This appreciative introduction to a much-maligned species will thrill readers while it encourages them to see great white sharks in a new way." —Kirkus Reviews, starred review

From the New York Times best-selling author Sy Montgomery and expert underwater photographer Keith Ellenbogen comes a new installment in the award-winning nonfiction series Scientists in the Field. Together they daringly investigate one of the ocean's greatest enigmas and world's deadliest predators: the great white shark.

Dr. Greg Skomal, biologist and head of the Massachusetts Shark Research Program, is investigating a controversial possibility: Might Cape Cod's waters serve as a breeding ground for the great white shark, the largest and most feared predatory fish on Earth? 

Aboard the OCEARCH research vessel, Sy Montgomery and Keith Ellenbogen report on this thrilling turning point in marine research and travel to Guadeloupe, Mexico, to get up close and personal with the sharks. This daring expedition into the realm of great whites shows readers that in order to save the planet and its creatures, we must embrace our humanity and face our greatest fears. This is an ideal read for Shark Week or anytime!
About the Author
---
In addition to researching films, articles, and over twenty books, National Book Award finalist Sy Montgomery has been honored with a Sibert Medal, two Science Book and Film Prizes from the National Association for the Advancement of Science, three honorary degrees, and many other awards. She lives in Hancock, New Hampshire, with her husband, Howard Mansfield, and their border collie, Thurber.
Website: symontgomery.com
Twitter: @SyTheAuthor.     
Praise For…
---
Kirkus Best of 2016 Nonfiction Detectives: Best of 2016 * "Exceptionally written and highly recommended for those looking to give a timely summer boost to STEM collections." —School Library Journal, STARRED review * "Readers interested in marine biology in general or great white sharks in particular will find the text informative and the you-are-there immediacy of the writing exciting." —Booklist, STARRED review * "This appreciative introduction to a much-maligned species will thrill readers while it encourages them to see great white sharks in a new way." —Kirkus, STARRED review "One minute Montgomery recounts the technical details of shark tracking, the next minute relays the steps she needs to take to be safe on the ocean, and the next narrates an all-out shark chase, as researchers on a boat and in a plane work together in a successful shark identification bonanza. This approach fully immerses readers in the field research experience, as do the excellent photographs of people, sharks, and the environment. In, on, and especially above the ocean, Ellenbogen captures the majesty of the great whites as well as the beauty and impermanence of the Atlantic barrier islands, dunes, and shoreline." —Horn Book "Montgomery's play-by-play narration and Ellenbogen's dramatic photos give the scientific excursion a thrilling sense of immediacy that should leave readers feeling like they're along for the voyage." —Publishers Weekly "Montgomery goes to great, and often humorous, lengths to put the actual danger of shark-on-human attack into perspective (annual average number of people killed by sharks—11; of sharks killed by people—100,000,000), but when dealing with fish prone to devour their unborn siblings, there's still ample delight for thrill seekers." —Bulletin —
Coming Events - Lively Times At All Three Stores
07/16/2022 -

11:00am

to

1:00pm
Sign up for our emails
Enter your email address   here   to sign up for our occasional emails and you will automatically receive a 20% off coupon you can use on your next visit to one of our stores.