Model City: Pyongyang (Hardcover)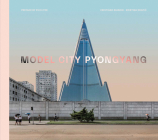 $29.95

In Stock, Click Title for Location
Description
---
A photographic journey through the architecture of North Korea's "model" utopia.
The story of Pyongyang is unique even in the annals of model cities and modernist utopias. Entirely rebuilt after the Korean War, North Korea's capital city was planned and fully implemented to embody a single ideological vision. This extraordinary, richly illustrated book takes readers on a photographic journey through the architecture of North Korea's "model" utopia.
Built as an ideological guide for its citizens, Pyongyang displays a unique architectural cohesion and narrative. From the city's large-scale monumental axes to its symbolic sports halls and experimental housing, Model City offers offers comprehensive visual access to Pyongyang's restricted buildings. The architecture of Pyongyang exists within a culture that favors construction and renewal over historical preservation, and in recent years many buildings have been redeveloped to remove interior features or render facades unrecognizable. Often kitschy, colorful, and dramatic, Pyongyang's architecture makes it difficult to distinguish between reality and theater. As befits a culture that has carefully crafted its own narrative, the backdrop of each photograph in Model City has been replaced with a color gradient, evoking the pastel skies of North Korea's propaganda posters.
Model City features two hundred color illustrations of buildings rarely seen by non-North Koreans, diagrams and architectural drawings that reveal the planning behind the city's elaborate symbolism, and texts by experts on Korean architecture—including an excerpt from On Architecture by Kim Jong-Il, father of the current leader Kim Jong-un. The authors' research has been supported by Koryo Studio and Korea Cities Federation.
About the Author
---
Cristiano Bianchi is an Italian architects based in Beijing. He made his first visit to Pyongyang in 2015.

Kristina Drapic is an Italian architects based in Beijing. She made her first visit to Pyongyang in 2015.
Praise For…
---
[Model City] is at once an architectural guide and a photographic odyssey that across 224 pages documents and elucidates both the past and the increasingly intriguing present-future of North Korea's capital... an essential addition to the developing literature on visual culture in North Korea.—PIN-UP—
Coming Events - Lively Times At All Three Stores
05/26/2022 -

6:00pm

to

7:30pm

06/04/2022 -

2:00pm

to

4:00pm
Sign up for our emails
Enter your email address   here   to sign up for our occasional emails and you will automatically receive a 20% off coupon you can use on your next visit to one of our stores.